A deli in the Bronx is making waves on social media for coming up with a creative 5 second twist on giving.
Ahmed Alwan, a 20-year-old college student, and son of the Lucky Candy store owner, has a history of giving. Always giving coffee or free food to those he sees homeless on the street.
And now Alwan has created a charitable supermarket sweep game by giving customers 5 seconds to grab anything they would like in the store (except their cat) if they solved a math problem correctly. Alwan uses his own money to pay for the items grabbed in that 5 second period.
Alwan took this game to the new social media player, Tik Tok, by creating heartwarming, uplifting and fun videos highlighting the joy people get by answering math questions as he slowly counts down. People grab what they can, including one hilarious man taking a full display of nuts and a hookah. As Alwan says, anything but his cat is fair game.
Beyond the entertaining videos, Alwan's actions and positivity has spread throughout the community – giving them a bit of notoriety and also allowing the low-income families to focus on paying rent instead of having to pay for essential supplies and foodstuff.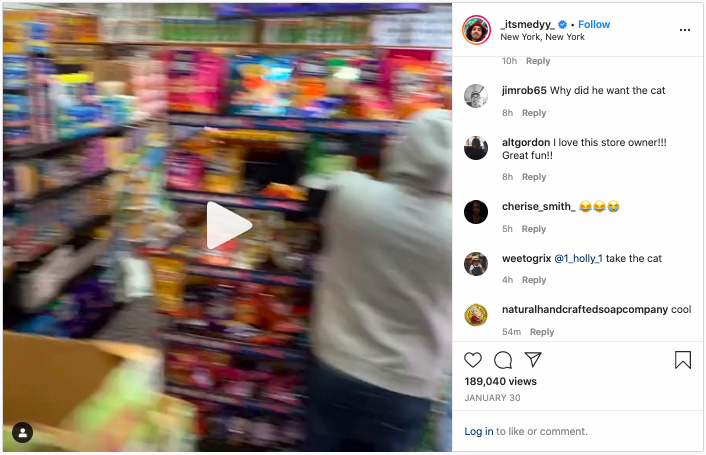 With 13 posts over two weeks, Alwan has managed to gain 300,000 followers on TikTok and 17,000 on Instagram. While he has increased business for his father's store through, his actions as people pop in to say hi or take pictures, for him, it is all about the community and simply being kind to others.
He is even using his popularity to start a GoFundMe fundraising page to keep his charitable game operable.
Alwan is not only a special gift to his community and those in need, but also a fantastic example for small business owners on how a creative idea with a community-centered cause can attract positive, viral attention that no one could have anticipated.
To read more of Alwan's story check out this article.
Also check out his Instagram account to watch his game in action.