Using an opt-in form can be a godsend in making it easier (and safer for email marketing compliance) to incorporate your latest contacts into your email marketing newsletters.
If you want to make your life easier and keep your contacts current with automations, make sure you read this – you'll learn how you can bring opt-ins into your everyday interactions.
Before we get to the 4 reasons you should be using opt-in forms for easier automation, let's quickly cover how you get contacts to opt-in.
How to Get Contacts to Opt-In
1. Give them a reason to
You have to give people a reason to want to sign up to stay in touch with you. Your newsletters are a great way to encourage new contacts to opt-in. You could also use one of the free reports/free guides that come with your membership to attract contacts to opt-in to receive helpful resources from you.
2. Keep your promises
If you say you'll send monthly newsletters or quarterly newsletters, make sure you follow through with doing that. If you say you'll send market reports or weekly emails, make sure you're doing that.
3. Send them things that make their lives better
Be a resource for your contacts. You want to be their trusted resource and show your expertise and why you can be trusted. It's not just about the hardcore selling or highlighting of your services, but it's more about showing them you are there for them and why they should turn to you when they have questions about services like yours.
4 Reasons You Should Be Using Opt-in Forms
1. It is SO much easier to maintain your database and keep it current with new contacts when they are added automatically.
Opt-in forms are a vehicle for your new contacts to easily be added to your database without you needing to lift a finger. You're probably used to seeing opt-in forms on websites or as pop up windows, but there are ways to incorporate opt-in forms even if you don't have your own website.
One popular way is to include a link to your form in your email signature or in your social media posts.
2. It's a systematic way of recording an opt-in that shows you have permission to email that person.
If any mass email provider has questions about the nature of how you obtained your email list, you could easily produce your opt-in logs and your opt-in form(s). This takes the burden of you or your assistant to have proof of the permission your contacts gave from old emails in years to come.
3. It is more seamless to keep in touch because new contacts have been added to the right list or to your database for future sending.
Just make sure that your opt-in form provider connects your opted-in contacts to your database so those contacts aren't getting lost in between. You can often turn to Zapier for their integrations that add contacts from one app to a CRM.
4. You get to deliver value right after they join.
The good opt-in providers out there let you send out an automatic first email that isn't just a confirmation of the opt-in. It's so great to be able to automate that initial email connection so your new subscriber can get more information from you right away. Strike while the iron is hot so you're standing out in their minds for even longer.
How to Create an Opt-In Form
The process of creating an opt-in form is similar across providers. You build a form by picking a title, an opt-in message, the fields you want your contacts to fill in, and what fields are required versus optional.
The fewer requirements you have, the greater your chance of getting someone into your database. New contacts that don't know you are going to be more hesitant to provide a phone number or last name, so really think about what you want to require them to provide.
If you have an ActiveCampaign membership with us, you're able to create multiple opt-in forms. When someone opts-in, they are automatically added to a particular contact list so they are ready to receive your future emails.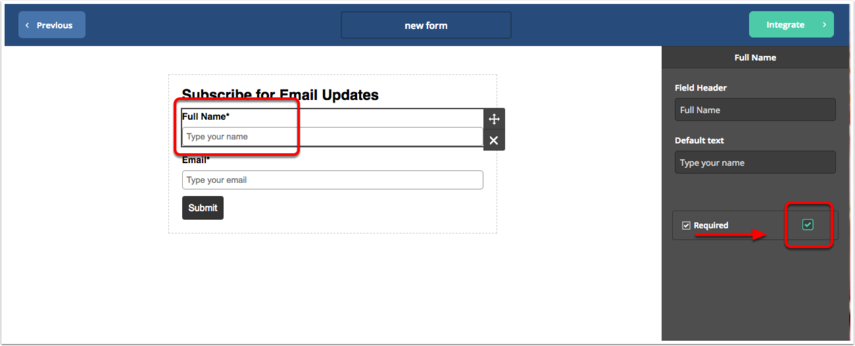 ActiveCampaign has prepared a super helpful step-by-step guide to getting an opt-in form ready in minutes in this article: How to create a form.
How to Autosend Your Last Email Campaign to New Contacts/Subscribers
You can update the settings of your contact list in ActiveCampaign so that the person opting in receives a copy of the last campaign you sent out.
It will take you less than 2 minutes to get this set up. From the specific List, use the drop down menu to get to the "Advanced Settings". In there, toggle the "Resend last campaign to new contacts" so that it is now on instead of off. Then click "Save." And that's it!
If you need more help, follow the steps in this article here: How do I resend my last campaign to new subscribers?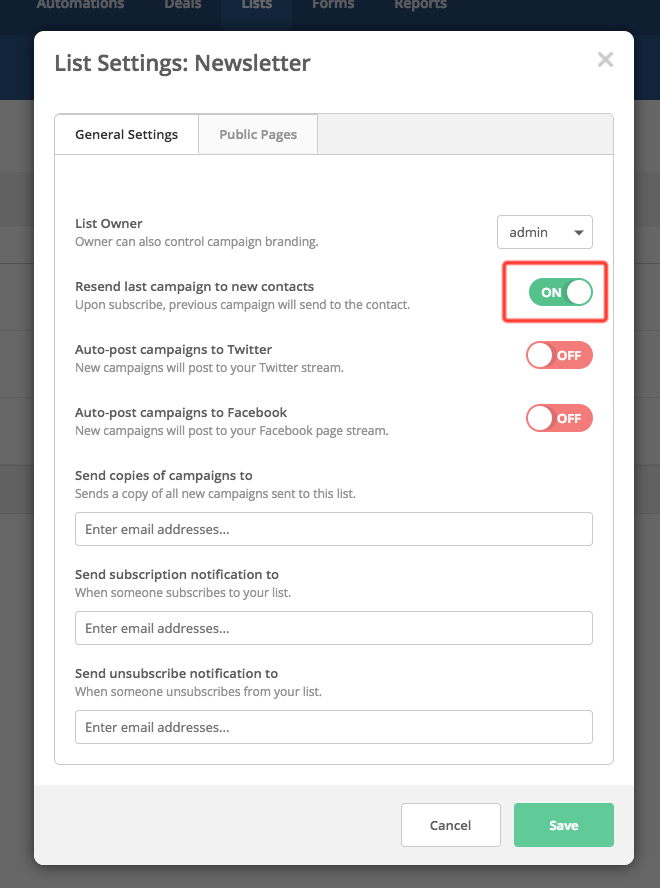 How to include your ActiveCampaign Opt-In Form on Your WordPress Site (with a plugin)
If you have your own WordPress website, you can install the ActiveCampaign plugin to easily embed or incorporate your op-in forms.
Learn more about the free WordPress plugin here.
Even if you aren't an ActiveCampaign user, think about how you can incorporate the opting in process to make your life easier by getting some systems that are working in the background for you.