Has buying an email list to quickly grow your number of contacts ever crossed your mind? This can happen when someone is desperate to grow their business quicker. While it may seem like a good solution, we're covering reasons why purchasing a list is going to harm your reputation, not only with contacts, but also the reputation of your email address, domain name, and much more. Learn the best ways to grow your list and the questions to ask yourself when deciding on who you can send your marketing emails to while staying in compliance and without violating CAN-SPAM (which stands for Controlling the Assault of Non-Solicited Pornography And Marketing) Act and CASL (which stands for Canada's Anti-Spam Legislation) regulations.
Why can't you use a purchased list with email marketing providers like ActiveCampaign, MailChimp, SendGrid, Constant Contact, and so on?
A reputable email marketing provider follows the CAN-SPAM and CASL laws and regulations around email marketing permissions and guidelines very closely. They care about protecting their clients and their clients' ability to send emails using their platform so they comply with the laws in place.
In the words of the leading email marketing providers (aka Email Service Providers (ESPs)) in the country, this is how they explain it:
"There are a number of laws and regulations that provide guidelines on the minimum requirements for sending campaigns to contacts. As a sender, understanding and adhering to these regulations is paramount to successful email marketing. At ActiveCampaign, our standards go above and beyond these minimums to ensure the highest deliverability standards for all of our customers. You can find our policy here: https://www.activecampaign.com/policy/."
– ActiveCampaign in Anti-Spam Legislation and Email Marketing
"Permission is not only common courtesy, it's required by our Terms of Use. People who haven't given you permission are more likely to report your email campaigns as spam, and less likely to engage with your campaigns or make purchases. It's in your best interest to always secure express permission. Spam reports can lead to aggressive spam filtering or blacklisting, which makes it impossible for some subscribers to receive any of your campaigns. This can also damage Mailchimp's reputation as a whole and negatively affect delivery for all our users."
– MailChimp in The Importance of Permission
"Even if you can still send email after you've sent emails to a purchased list, many times purchased email lists also include emails that have long been shut down or are just plain fake.

Email addresses known to be old and unused (i.e., have not given permission to receive email) are known as a spam trap. When email is sent to them, it's a clear indicator that the sender is spamming and almost always results in the sender landing on a blacklist.

ESPs can't follow through on business promises like having the highest possible delivery rates if some of their senders are sending email to a purchased email list."
– SendGrid in 3 Reasons Why You Shouldn't Buy an Email List 
What about providers who allow the use of purchased lists?
If you find an email marketing provider that doesn't have issues with you using purchased lists, this is bad news for your business and your reputation and a major red flag. The unfortunate thing is that there are companies out there that will not follow the laws and that is why you have to do your research when deciding on which ESP to go with.
What are the impacts of sending unsolicited emails?
When you receive an email from some random vitamin store about the benefits and risks of vitamin D and you know you didn't sign up to receive it, what do you usually do with that email? Like most consumers out there, you probably mark it as spam and get a bit frustrated that you received that email in the first place, right? It's rare that you'll actually read it and look forward to receiving those emails in the future.
If you send unsolicited emails to contacts that don't know you or don't remember you, they'll wonder why on earth they're receiving your email and they'll mark it as spam. You can read more about the negative impact of spam complaints and getting blacklisted in Why You Should 'Thank' Your Unsubscribers.
What are the best ways to grow your email list?
Be a helpful resource: You can show your value by offering a freebie in exchange for joining your email list. Other ways you can show your value and expertise are with newsletters and blog posts. If you can provide this level of help and resourcefulness over time, you will build relationships of trust and loyalty with your contacts. 
Make it easy for visitors to join your list: Many ESPs like ActiveCampaign have sign up forms included with your account. You can link to your form from your web pages or your email signature. You can also use timed pop-up tools that prompt your visitors or readers to get your free guide or join your newsletter list.
Research and use a reputable ESP: Make sure you're using an email marketing provider that follows CAN SPAM Laws and cares about your email deliverability. ActiveCampaign, MailChimp, ConstantContact, and SendGrid are just four of many.
Can I send marketing emails to everyone in my email contact list?
The short answer is no. If you care about your email deliverability, your brand and business reputation, you should only be sending marketing emails to those who have given you permission to do so. Without getting their permission, you're likely to get spam complaints and that definitely harms your future sending delivery.
If you're not concerned about your email deliverability and your reputation, you could chance it, but the more spam complaints you get, the harder it will be for your emails to land in someone's inbox over time.
When can you add a contact to your email list?
ActiveCampaign has created a really helpful overview of questions you can ask yourself when you meet or connect with a new contact to determine when you can add them to your email list, or not. Below we've included their chart from their post here to help you navigate building your email list the right way.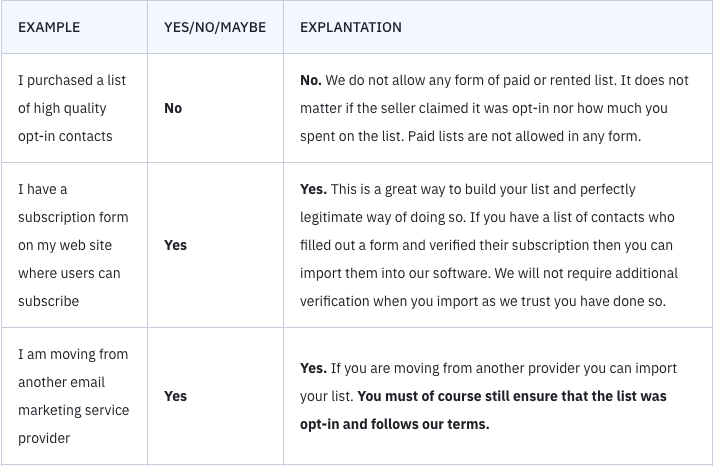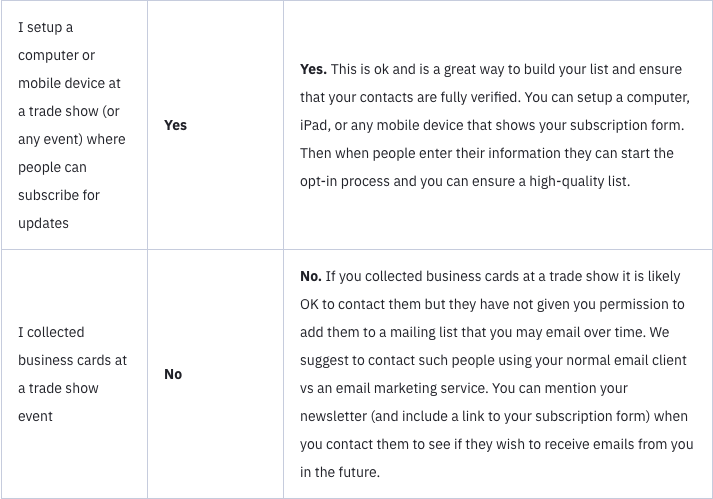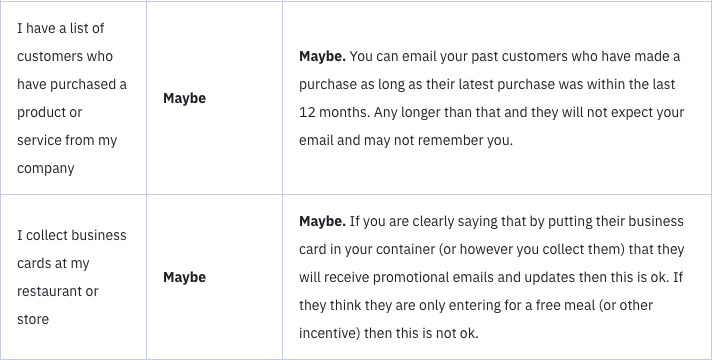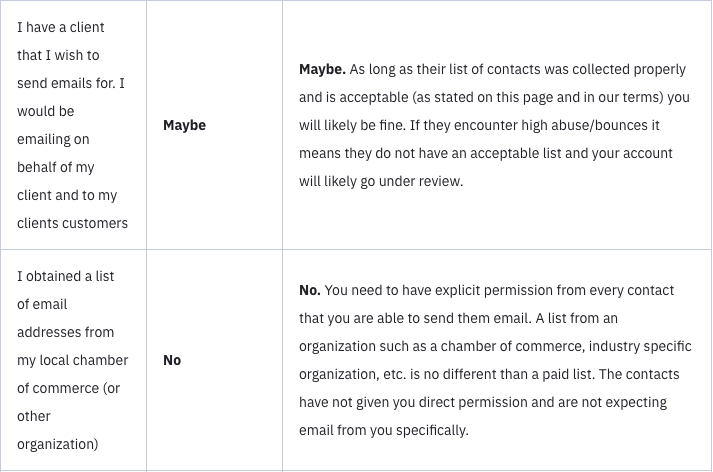 You probably never thought you'd need to know this much about email marketing rules and guidelines when you embarked on your journey as an entrepreneur. And, unless you've taken marketing courses or have been taught by your brokerage, chances are you don't know a whole lot about email marketing providers.
It's never too late to do the right thing so if you haven't been following some of these helpful guidelines, now is a great time to get on track and protect your email deliverability and your reputation.