Ever feel like you're just throwing posts up on social media and hoping that something will work to get traction with your followers? Don't worry. If that sounds like you, you're not alone. Most businesses and entrepreneurs know they should have a social media presence, but forget that a little bit of strategy goes a long way. Try this ABC's framework to set your own social media goals that you can measure and actually achieved.
According to the 2019 Sprout Social Index nearly 50% of marketers note that aligning their social media campaigns with business goals is their top struggle.
Why? Because there is no "right" answer to what your social media objectives need to be.
The graph below shows that the top priorities of social-savvy businesses differ greatly.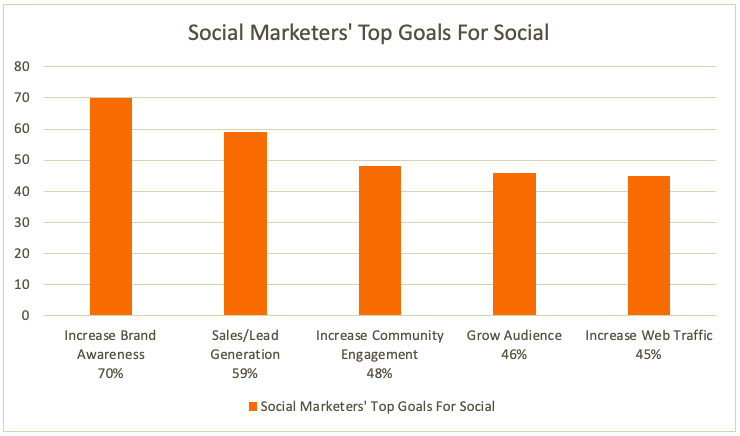 We know you want to focus the majority of time on bringing in sales. But here's the thing: You can't ignore the process of setting goals on social media and here's why:
Goals keep you accountable.
Social media has the unfortunate reputation of being a time-suck. But by defining goals, you can point to the specific steps and actions you need to take to meet your goals.
Setting Social Media Goals
You can use the following ABC's framework for any business regardless of which social network you're focusing on.
A – Always Begin With A Broad Objective
Why is your business active on social media in the first place? That's an important question you need to have the answer for.
Here are some examples for reference:
Small business:

engage local followers and grow a greater community presence

New business

: build awareness for a new product or service and generate leads for it

Enterprise company

: provide a timely customer service channel to boost customer loyalty
Once you have your broad objective nailed down, you can then start thinking about specific goals that will directly guide your day-to-day social activities.
And that leads us to the 'B' in ABC's.
B – Be Sure To Set SMART Goals
Here's where we get into the nitty-gritty. Once you've gotten your big-picture goals figured out, it's time to outline your SMART social media objectives. SMART goals are used in many other applications and social media is no exception.
If you aren't familiar with the SMART acronym, it stands for:
S

pecific: Your goals should be clear, simple and defined. (The more specific your goal, the more likely you will be able to achieve it.)

M

easurable: Use numbers and metrics to quantify your goals.

A

chievable: Is it within your reach?

R

ealistic: With your current resources of time and money, is it possible to achieve your goals?

T

ime-sensitive: Every goal needs a time frame, whether it's one year or several months.
And finally, we come to the "C" in the ABC's framework.
C- Clearly Identify Goal Metrics
Next, it's time to identify the metrics you'd like to assign to your goals.
If we use "increase brand awareness on Facebook" as an example goal, you will want to pay close attention to measurable metrics such as:
Fan count

Page and Post Impressions

Post Reach

Link clicks (if you are linking to your website)

Website analytics for Facebook referrals
When using SMART goals, "increase brand awareness in the next 3 months" for a real estate agent might look something like this:
S

pecific: Increase brand awareness on Facebook account within a fifteen-mile radius of the farm area.

M

easurable: Increase fan count by 15%. Increase link clicks on posts by 15%. Have an average Post Reach of 500 people per post.

A

chievable: Yes

R

ealistic: Set up ad posts spending $15 per post, targeting an audience within a fifteen-mile radius.

T

ime-sensitive: 3-month time limit on achieving the goal.
D – Do Track Results
Are numbers ticking upward in terms of clicks and conversions? Is your audience growing?
Whether the answer is "yes" or "no," you'll know if your action plan is working.
Before you start with your actionable goals, remember to gauge where you are currently so that you can do a comparison after the time period of your goal. Without your starting point, you aren't able to get the whole picture when tracking your results.
Not sure what you should be tracking?  Here are some examples of key performance indicators (KPIs):
   

For increasing brand awareness:

KPIs = followers, impressions, traffic, reach, profile visits

   

For generating leads and sales:

KPIs = email sign-ups, sales revenue, lead conversion rate, non-revenue conversions, 

   

For growing your audience:

KPIs = mentions, followers, engagement rate

   

For increasing community engagement:

KPIs = clicks, "likes," shares, comments, mentions

   

For increasing web traffic:

KPIs = traffic, link clicks, conversions, email sign-ups, product trials
E – Engage On The Right Social Media Platform
It's not feasible for most small to medium businesses to maintain a strong presence on every social media platform out there and we don't recommend you try to do this.
Instead, it makes sense to go with the platforms that will give your particular business the best possible results.
The choice of platforms should depend partly on the nature of your business, and partly on which platforms have the highest number of active users and the best advertising options for your business.
How do you pick which platform or platforms to be part of?
Each platform has its own benefits and abilities to help with a business presence. A general rule of thumb when it comes to social media (and marketing as whole) is that you want to be where your customers or prospective customer are already spending time. If you know your contacts are quite active on Linkedin and not really on Instagram, then it makes the most sense to start with Linkedin before thinking about setting up your Instagram presence.
Facebook
Facebook is still the king of social media and it makes sense for all businesses to have a Facebook page at minimum. Not only do they have over 2.2 billion active users, they have the largest blend of demographics of any social media platform.
Instagram
If your business is related to a very "visual" product, it might make sense for you to have a presence on Instagram. 
Over 250 million users interact with Instagram Stories on a daily basis. 50% of Instagram's 800 million active users follow brands and 60% of their users log in daily, making it the second most active social media platform after Facebook. 
Instagram also lets you message users directly which is great for answering queries and getting new leads.
Twitter
Twitter is a trickier nut to crack but its strength lies in viral and influencer marketing. Hashtags and mentions allow you to track and participate in trending topics and conversations. With 328 million users and 500 million tweets per day on average, there are plenty of opportunities to join conversations relevant to your industry.
LinkedIn
Primarily aimed at professionals, LinkedIn tends to be marketed to business-to-business (B2B) brands but it's also a powerful platform for freelancers, start-ups and entrepreneurs. It's the ideal platform for marketing your brand's expertise, skills and technical knowledge, whether you are an individual or a company.
Pinterest
Pinterest is a visual-based social media platform and is well suited for brands that wish to promote themselves in this way. It also features buyable pins which makes it easy to sell products directly from your Pinterest page. Despite being particularly well suited to industries such as fashion or home décor, all brands can find a way to creatively promote themselves on Pinterest.
What are your social media goals?
The next time you're thinking of getting involved on a new social media platform or want to continue your social media presence, we encourage you to set specific social media goals for your business. Goal-setting is the common thread among those who are successfully marketing on social media.