When you look at your campaign sending reports, you can start to see who is opening your emails and, just as importantly, who is not. There are 4 reasons why you want to say goodbye to deadweight contacts, but only after you've given them some chances to stay in touch with you. You'll find these reasons and all the steps you need to create a re-engagement campaign (including exact messages you can use) to bring a contact's interest back before you say goodbye forever.
We're building on from our last post where we promised to cover re-engagement campaigns. If you missed it, check it out: Are your open rates this high? 
What is an inactive contact?
An inactive contact is someone who has not engaged with (meaning has not opened, clicked or replied to an email you've sent them) in the last 6 to 12 month period. Unfortunately, email sending providers like ActiveCampaign explain that, "Sending campaigns and automation emails to contacts who do not engage with your emails can hurt your deliverability rates and inbox placement." And, you don't want that.
According to a web and marketing pro's (Neil Patel) blog post, the average email lists inactive rate is a whopping 60%. That means that out of a total email list of 500 contacts, there are only 200 true contacts reading your emails. (Side note: Forbes said that Mr. Patel is one of the top 10 marketers and Entrepreneur Magazine says he has created one of the 100 most brilliant companies.)
There are two ways you can approach email lists and contacts management, but one definitely leads to greater deliverability and readership loyalty.
One approach is to never remove inactive contacts. To remove anyone from your list can sound like a scary thing because you may feel like you'll lose out on the potential business that that person or their contacts could send you either now or in the future if you remove them.
But, do you want to know a little secret? If they haven't opened your emails for a 12 month period (or longer) and haven't sent you any referrals in that time, what do you think the likelihood of them opening a future email or sending a referral is? Very, very low.
We're not saying to remove them outright. We're recommending that you try to gain their attention again with a re-engagement campaign and we'll go over those how-to specifics very soon.
The other way to approach email lists and contacts management is to send emails to those that want to hear from you and are showing their interest by opening or replying to your emails. 
What are the benefits of this approach?
In short, you're looking at:
Better email deliverability

Greater readership and loyalty

Fewer spam complaints

Eliminating the lookie loos that have no intention of working with you
We know it might sound like madness, but letting go of someone who isn't interested in what you have to say or doesn't want to hear from you is a good thing. When someone opts out or unsubscribes, for example, they're telling you they're not interested and this means you can stop wasting your time and efforts on someone who has very clearly expressed that they don't want to hear from you.
This lets you focus your efforts on more qualified contacts who care about receiving your emails and who are taking an active interest in the services and products you provide.
Learn more from this blog post: Why You Should Thank Your Unsubscribers.
So, the next question is, what should you do when a contact becomes inactive?
It is a common email marketing practice to remove those contacts that haven't engaged (opened, clicked or replied) in the last 12 months, but not before attempting to bring them back with a re-engagement campaign.
How to Create a Re-Engagement Campaign to Win Back Contacts
The purpose of the re-engagement campaign is to give your contacts a few more chances to open your email before removing them from your list forever. You need to grab their attention and find out if they really prefer not to read your emails — you're ultimately giving them the benefit of the doubt.
Below we've included the steps you can take to create your own re-engagement campaign so that you can then remove the deadweight contacts from your email list that aren't responding to any of your emails.
1. Create 3 email template messages with catchy subject lines that give your contacts a reason to open your email.
Pro Tip: a gift card incentive helps sweeten the deal so you can get real, helpful feedback from your list (if you're able to do that).
Here are 3 messages that you can use and customize as much as you'd like.
Email #1
Subject line: Action Required
Email Message:
Do you still want to hear from me?
I want to ensure that you continue to receive information that is helpful, resourceful and relevant to you.
If you would like to stay connected, please take a quick second to reply back to this email with the best email address to use when contacting you.
Thank you,
[Your Name]
Email #2
Subject line: Feedback needed
Email Message:
I know your inbox may be a little crowded, but I hope there is still room for me.
I noticed that it's been a while since you've opened one of my marketing emails so I'd like your feedback to keep relevant to your needs.
My goal is to provide helpful, resourceful and relevant information, so please reply to this email with answers to the following 3 questions for a chance to win a $30 Amazon giftcard.
1. What can I do to better serve you?
2. What topics do you wish I would email you about?
3. How often would you be comfortable hearing from me by email?
Thank you for helping me understand your needs so I can better serve you.
Many thanks,
[Your name]
Email #3
Subject line: Our final email
Email Message:
We hate goodbyes so we're emailing you one last time.
Reply back to this email if you want to continue receiving emails from us. 
If you don't reply back, we will remove you from our email list and you will no longer receive our emails.
Best wishes,
[Your Name]
Here's a video of the steps you'll take to create an email template in ActiveCampaign that can be used below.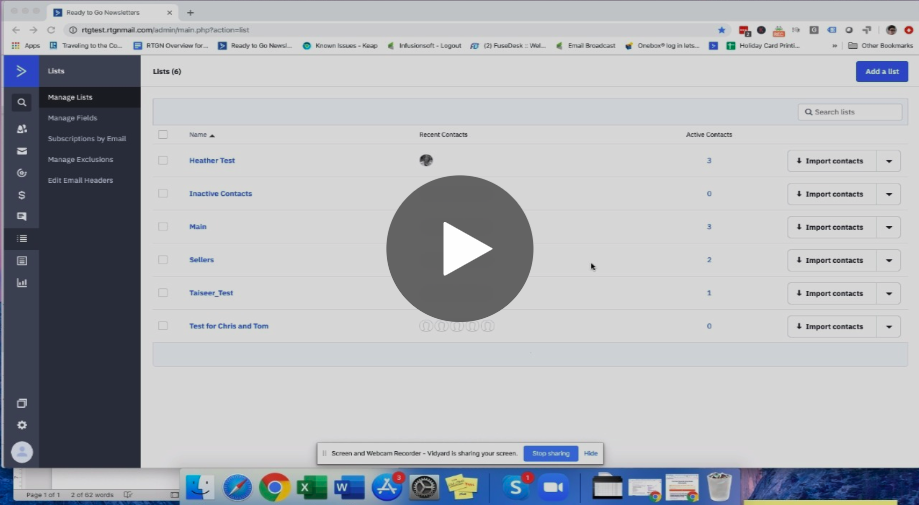 2. Create a new list called 'Inactive Contacts'.
This video shows how you can create a new list quickly in ActiveCampaign.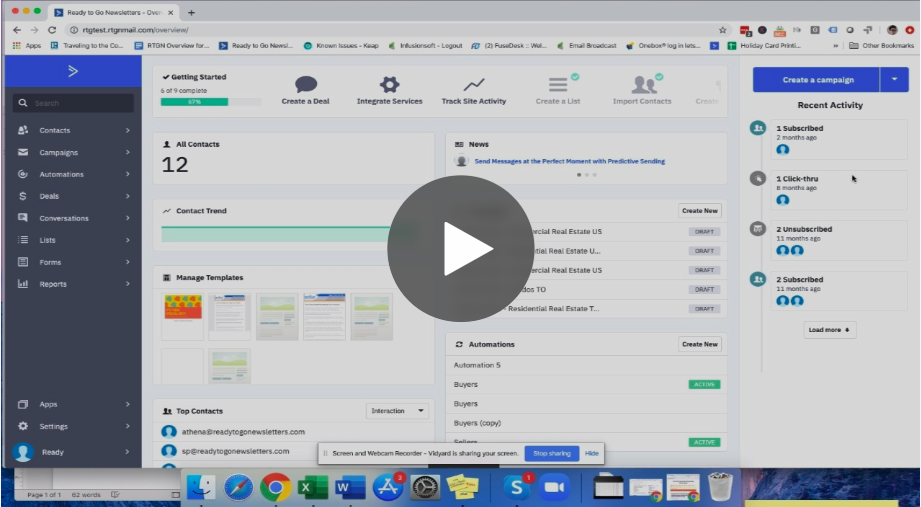 3. Look at the statistics report from the most recent email campaign you sent out. Review your open, click and reply stats to see who has and has not "engaged" with your messages.
For a refresher on how to review your statistics in ActiveCampaign, check out this step-by-step guide: Who the heck is opening my newsletter?
4. Next, export the contacts that did not open your email message. You will use this exported contact spreadsheet to send the first email in your re-engagement campaign. This video walks you through the exporting steps.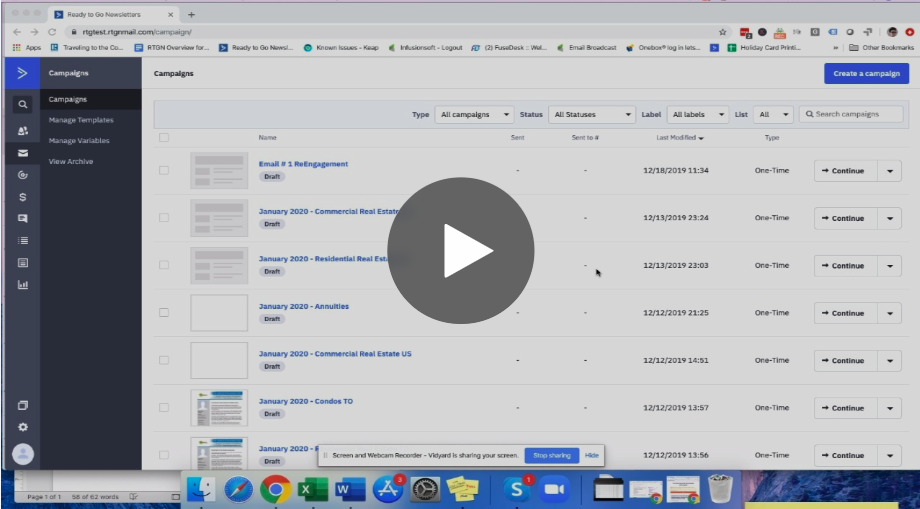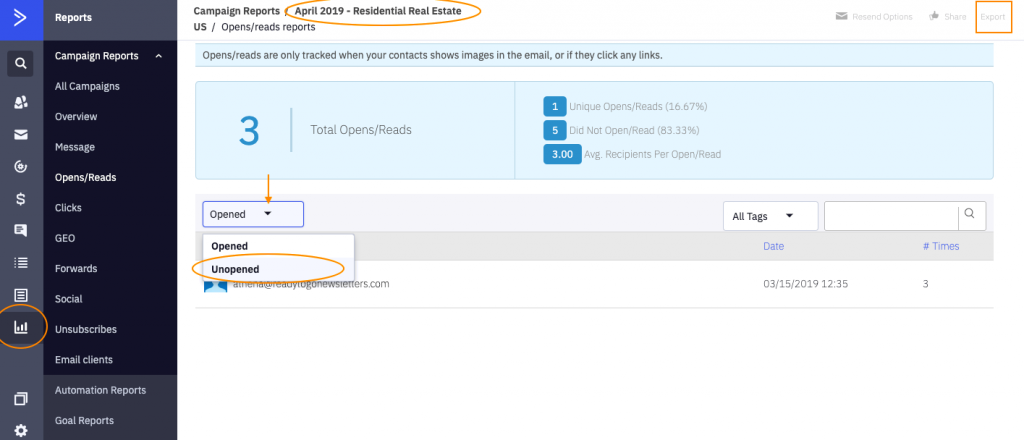 5. Import the spreadsheet of inactive contacts to your 'Inactive Contacts' List.
This video shows how you import a contact spreadsheet into a list in ActiveCampaign.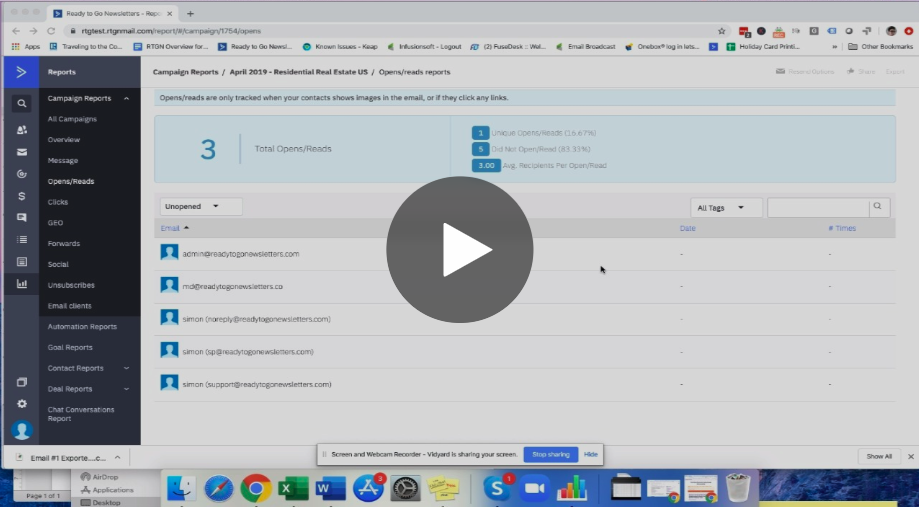 6. Send Email #1 out to your 'Inactive Contacts' List.
This video show you how to send out your Email #1.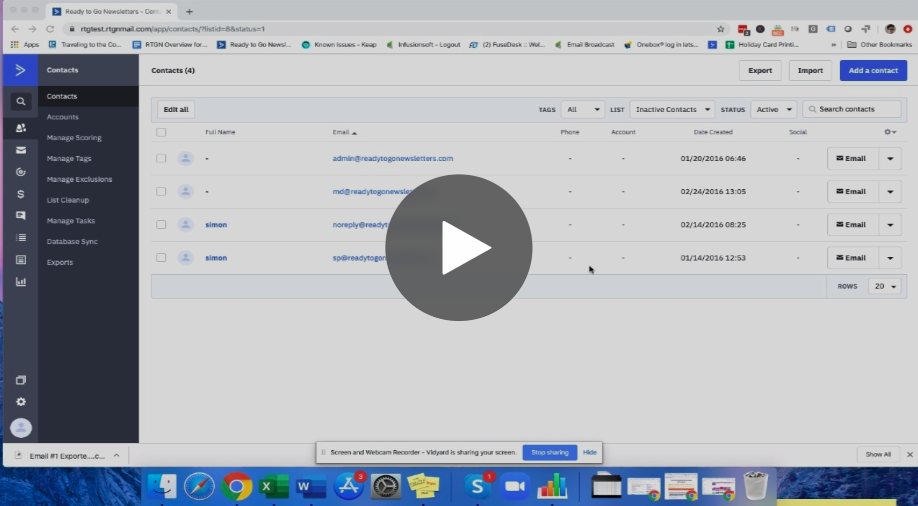 7. Wait at least 1-2 weeks to check the sending report from Email #1. 
You will most likely get some of those contacts to open your email so you need to remove any contacts that opened your email from your 'Inactive Contacts' List since they have engaged with your email.
This video shows how to remove the engaged contacts from the 'Inactive Contacts' List.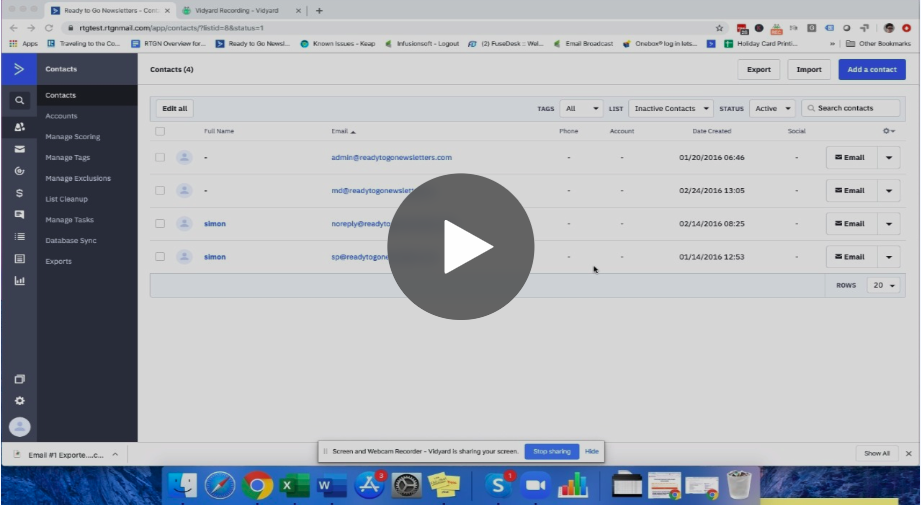 8. Then, proceed to sending Email #2 to the remaining contacts in your 'Inactive Contacts' List.
9. Wait at least 1-2 weeks to check the sending report from Email #2.
10. Remove any contacts that opened your email from your 'Inactive Contacts' List since they have engaged with your email.
11. Proceed to sending Email #3 to the remaining contacts in your 'Inactive Contacts' List.
12. Wait at least 1-2 weeks to check the sending report from Email #3.
13. Now it's time to remove Email #3's inactive contacts from your email list.
How to Remove Inactive Contacts
ActiveCampaign, our email sending partner, has Engagement Management tools that make this step super easy. It will help you remove inactive contacts for a specific window of time. You can select a 3, 6, 12, 24 month period and it will delete inactive contacts from every list they are on.
Pro Tip: When making permanent changes like this, it's always a good idea to first export all your contacts as a backup so that you're covered if you experience any technical issues or make any mistakes while deleting your inactive contacts. Save your back up to your cloud storage so you can access it if need be.
How to Remove Inactive Contacts in ActiveCampaign
ActiveCampaign makes it easy to remove contacts that have not engaged with your emails within a specific time period.
You can choose to remove contacts who have not engaged within the last 3, 6, 12, or 24 months. This option will only consider contacts who were sent a campaign or automation email within the specific time period that you choose.
Go to Lists page and click on the down arrow next to "Import Contacts" for the list you want to clean
Click "Engagement Management"

Click "View Cleanup Options"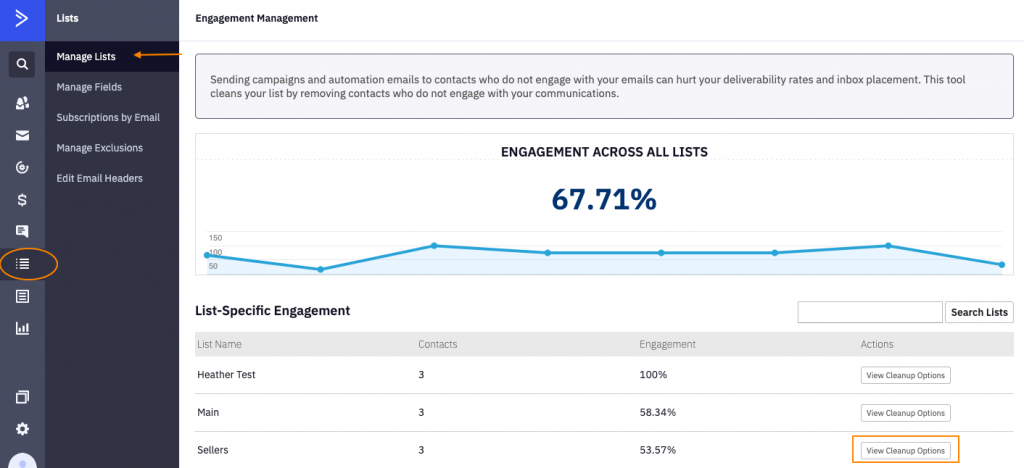 Select "Remove all non-engaged contacts past a certain date"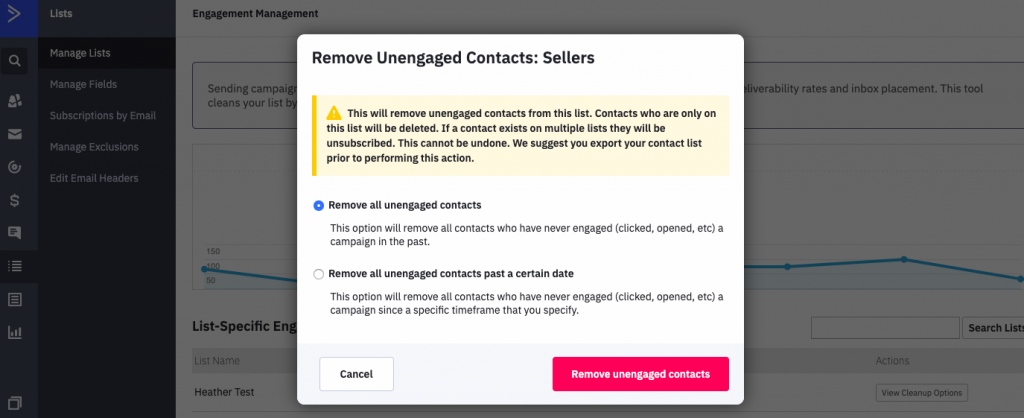 Select your timeframe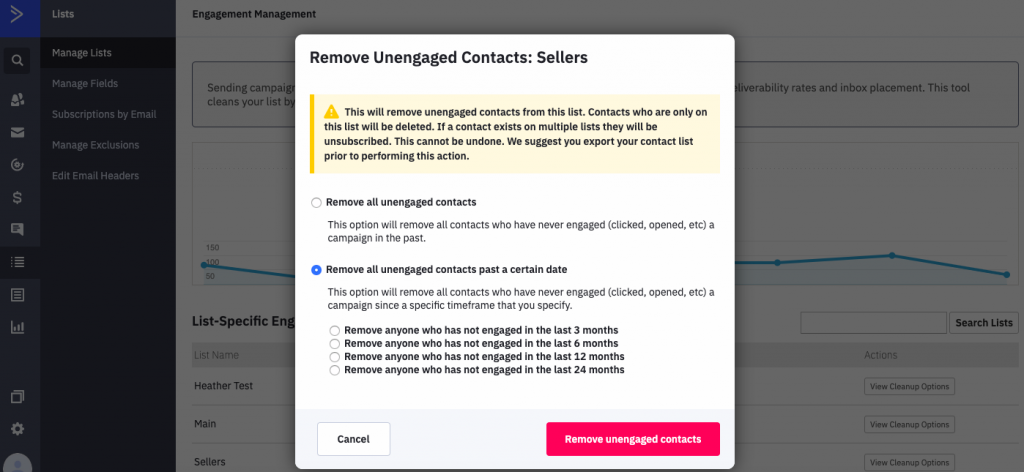 Click "Remove Non-Engaged Contacts"
How to Remove Inactive Contacts in other CRMs
If you aren't using Active Campaign, reach out to your email marketing provider and inquire about an engagement tool or ask their support team to walk you through the best way to remove inactive contacts from your email list.
Contact us if you have questions about managing your contacts for better open rates and greater reader retention. Email us at help (at) readytogonewsletters.com or give us a call at (877) 976 6368 and press option 2. We're here to help!