Even though you've seen them, you may be asking, "So, what exactly is a hashtag?"
A hashtag is a word or phrase preceded by a hash or pound sign (#), used to group messages on a specific topic especially on social media apps and sites.
By adding the # sign, that word or phrase used becomes an instantly searchable link on Facebook, LinkedIn, Instagram, Twitter, YouTube, and a number of other applications. It helps users who are interested in a certain topic, quickly find information and content on that same topic.
Once someone clicks on that hashtag, they'll be brought to a page that combines all of the posts with the same hashtags, in real-time.
When used properly hashtags can certainly drive organic traffic to your social media spaces.
How To Use Hashtags
Using a hashtag on a social post is really as simple as adding the # sign before a single word or phrase, without spaces or punctuation.
Hashtag Basics
Keep them short. If you're using hashtags for their intended purpose (categorization and discovery), don't string too many words together with a single hashtag.
Use them in the content of your social media posts instead of at the bottom.
Keep your links close to your hashtags, this will help increase the engagement you receive.
Make sure your hashtags are interesting and specific. For example, #furniture is not as engaging as #shabbychicfurniture
They must be relevant. How many times do you see people randomly putting hashtags in a post just to get clicks? Sure they will come up in a search, but if their post isn't about the topic, they won't get the right engagement. Don't write a blog about mortgages and then use #motorbikes #classiccars as hashtags if they have nothing to do with the blog. Chances are you will just make yourself unpopular going this route.
Don't SPAM with your hashtags. Avoid over-tagging a single post or adding them to every word. Also avoid using words that don't relate to your content whatsoever.
Benefits of Using Hashtags on Social Media
Now that you know the basics, let's go over the benefits of using hashtags correctly.
1) Consider coming up with a hashtag that is specific to you and our brand that you can use across all of you posts. Here's an example on Instagram of a real estate agent that used his #BrandondSellsSanDiego hashtag on all his posts. The benefit of this is that if someone finds your social post and they want to learn more about you, they can click on your brand-specific hashtag to see a history of what you have shared in the past.
2) Don't underestimate the power of using hashtags to join conversations.
Another way to join in on specific conversations that are happening is to share relevant posts that have to do with popular events or holidays taking place.
Here are some real life examples:
Shark Week takes place annually and it gets bigger and bigger each year. Here's #sharkweek2019 on Twitter.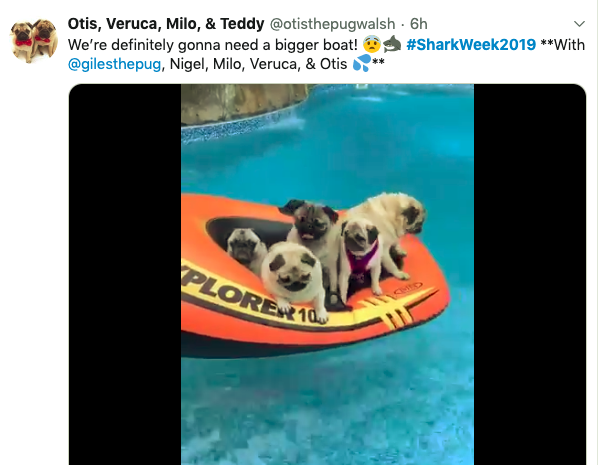 Marie Kondo's popular Tidying Up on Netflix got lots of people using #sparkjoy with their organization posts.

Raid Area 51 prompted so many posts that big and small brands used to bring exposure to their business or organization. Here's an example of how the Hillsborough County Sheriff's office joined the conversation around #raidarea51 and got 865 reactions, 472 shares and 85 comments.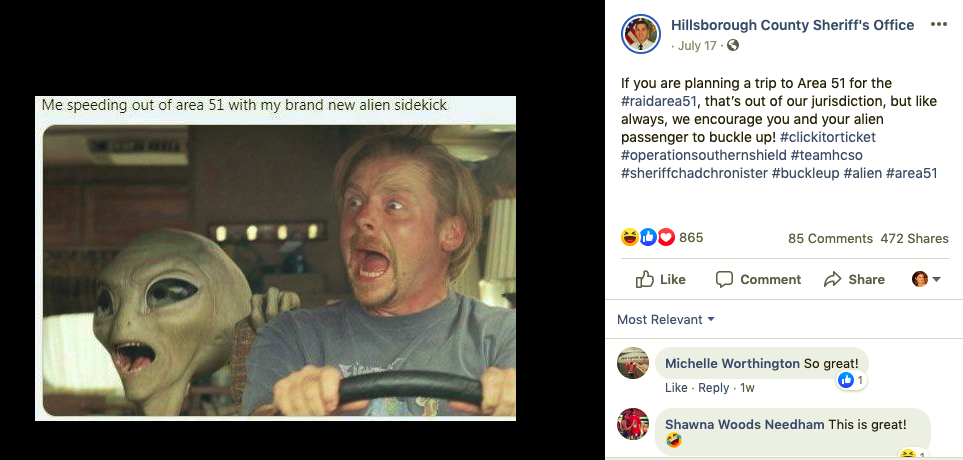 3) Other conversations you could join using hashtags include:
Events, award ceremonies and conferences (#RoyalWedding, #WorldCup, #GoldenGlobes)
Holidays or celebrations (#BaconDay, #SiblingDay)
Popular culture topics (shows, movies, or pop culture events)
Popular hashtags for days of the week (#TBT for Throw Back Thursday or #MondayMood)
Remember: While jumping in on trending conversations is recommended, be appropriate. People have mixed feelings in terms of how a business should show their support for disaster victims, for example. As a general rule, whatever you do, don't use these types of sensitive conversations as a blatant sales opportunity. 
Different Hashtag Rules for Each Social Platform
Each social network uses hashtags a little differently so it's important to understand those differences before jumping in.
How to Use Twitter Hashtags
On Twitter, hashtags are used to find conversations to get involved in, or to start one of your own. As long as your profile is public, people can find the posts in which you make use of hashtags.
Tweets with just one hashtag generate the most engagement. Engagement drops when you use more than 2 hashtags.
You can find hashtags on Twitter by using the search bar, clicking on the hashtag or looking through the trending topics page.
How to Use Instagram Hashtags
An Instagram hashtag collates all photos with the same hashtag into one stream. The purpose of hashtags for Instagram revolves around discovering content and finding users to follow, exposing you to a larger audience. One study found that posts with at least one hashtag have 12.6% more engagement than those without.
There have been multiple studies on the optimal number of hashtags to use on Instagram. Since the results tend to vary, there is no universally agreed upon number. We recommend testing it out to see what gets the best results with your audience. Just keep in mind Instagram limit has a 30 hashtag limit per caption or comment.
How to Use Facebook Hashtags
When using hashtags on Facebook, keep it to 1-2 hashtags per post. It's also worth noting that hashtags with 10+ characters receive good engagement here.
Hashtags are a great tool to use in your social media marketing efforts. They can help you to communicate with followers, drive engagement for your content, and attract a new audience to your brand.